Burn-in Boards
At KES, we employ the latest CAD Design Systems and Software Design Tools to meet the varied needs of the Burn-In Industry.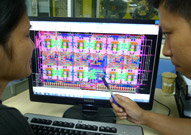 Our group of Design Engineers specializes in Dynamic Burn-In and Parallel Test Board for all ranges of memory device types and packages. KES also has extensive experience in designing Burn-In Boards for high frequency, impedance controlled microprocessor devices.
At the same time, KES is at the forefront of using SMT design, and has been producing SMT Boards for Burn-In applications since 1995.

Our design quality is further enhanced by our CAE signal simulation software that simulate signal performance. This allows us to obtain optimum signal quality for our board designs. These boards are currently manufactured under the KES line of advanced production equipment.
Memory TDBI and Dynamic Burn-In Boards

All DRAM families, SRAM, FLASH etc.
For Dynamic and Test-During-Burn-In (TDBI) Systems
Low Noise, Impedance Controlled
Output Monitoring
6, 8, 10 Layers





Micro-processor, Micro-controller and Chip sets Burn-In Boards

High frequency Clock signals
Low Noise, Impedance Controlled, High Current
6, 8, 10, 12 Layers